Hire us for your printing needs! Want to make a Print? A Book? A Zine? A Flyer? Or perhaps a Poster? We provide Risograph Printing services and would be delighted to assist you with your project.


Have a protest flyer? An Anti-Racist or Anti-Fascist Manifesto? Let us be your vehicle for expression. We offer free 1-2 color printing on our stock paper. Send us an Email, we would love to print you Anti-Racist and Educational Materials free of cost.


The Risograph is a stencil-based digital duplicator. Traditionally it's been used as a copy machine to produce simple one or two color images for offices, churches, or schools that would need a large quantity of prints in a cost effective manner. Though it looks like a copy machine, it acts more like a screen printer on steroids. It uses thermal heads to cut a precise stencil that is wrapped around an ink drum, which prints one specific color. This drum holds the ink, the screen, and the stencil. In the printing process the paper is fed through one side of the machine, wrapped around the drum where the ink pushes out onto the page, and then like magic shoots out the other side. This machine is made to print at high speeds and large quantities, which can produce some mild inconsistencies that are tied to the charming nature and aesthetic of printing with RISO. Those lovable faults; loosely reliable registration, vibrant colors, and halftoned and dithered images. This is what is so enticing to us about the risograph, it's never a perfect representation of your image, but that adds to the quality and style which is where the machine plays its part in the collaborative process.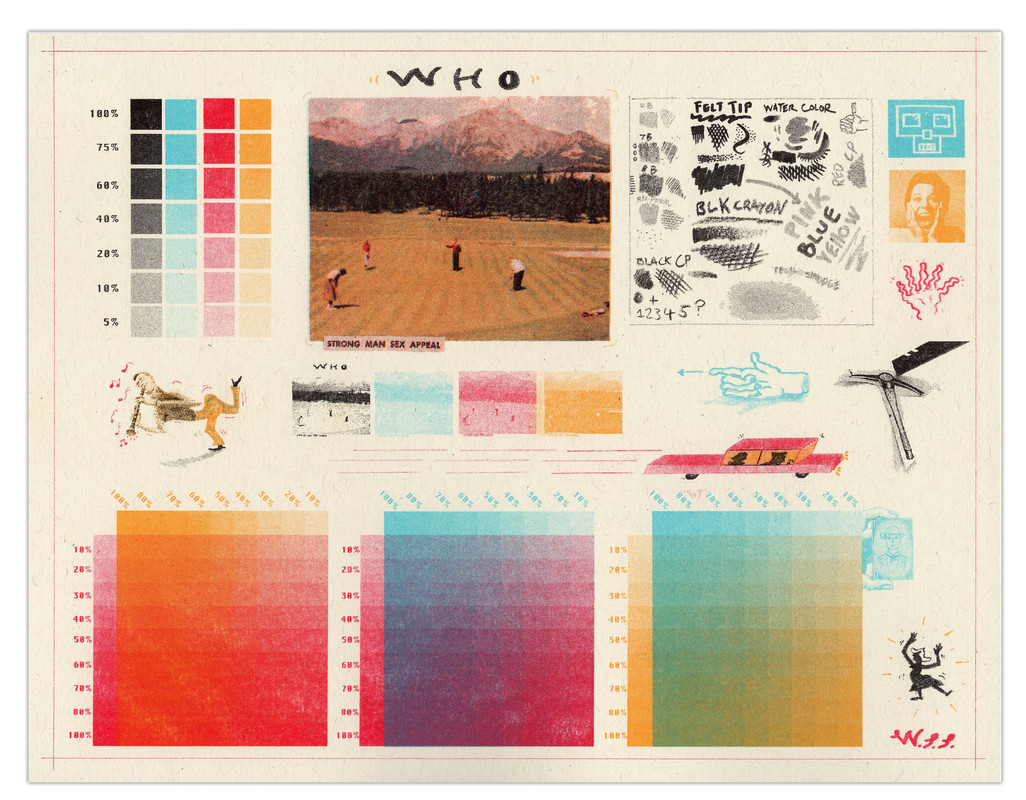 Color chart printed on 8.5" x 11" French Paper Speckletone Cream.


Email us at Who.press.d.press@gmail.com
What Should I include in my email?
A brief or lengthy description of your project

Do you have a deadline/timeline?

What do you want to print? (Send us images! We like visuals)

Is it a Poster, Book, Zine, etc…

If it is a Book/Zine how many pages?

What Colors? How many? (Refer to our color chart)

What is your edition size? (How many copies do you want?)

What are the dimensions? (Biggest we can print is 11" x 17")

Where are you based? (So we can get an idea of Shipping costs)
*Additional costs vary (Shipping, File prep, and any special bindings)
**Free local pick up at our studio in Philadelphia, PA!


But how much does it cost?
It really depends on the project! The Risograph is great for high quantity projects. The more you print, the cheaper each print becomes. Other factors that influence the cost depends on the ink, paper, and binding. Generally custom colors and niche papers cost more.
What sizes do you offer?
We can print any size between 4" x 6" to 11" x 17"
What colors do you have?
Currently we have Red, Sunflower, Aqua, and Black. But soon to have many more!
Shipping?
Yes, anywhere! And everywhere! Price varies depending on location. Free pick up in Philadelphia, PA.
What's an Edition?
An edition is the number of prints produced from your artwork. Generally, we ask for a minimum edition of 100, but willing to be flexible considering the project.
What types of binding do you offer?
At the moment we use basic saddle staple bindings, it's quick and fast. If you have specific binding in mind, we can accommodate.